[Back to MrTitanium's Anodizer Samples Page]
A chain-mailing reader had this set-up posted on "The Forum", a ring and chain-mail makers BBS.
Below his own description are some detail shots of the anodizer built roughly to the cheap anodizer specs on my Site
See below his description for a list of parts, prices, and pictures of his cheapest anodizer
"Fixer of Things" (www.we3dements.com) anodizing set-up description (his own, un-edited picture and descriptions):
Pardon the Mess: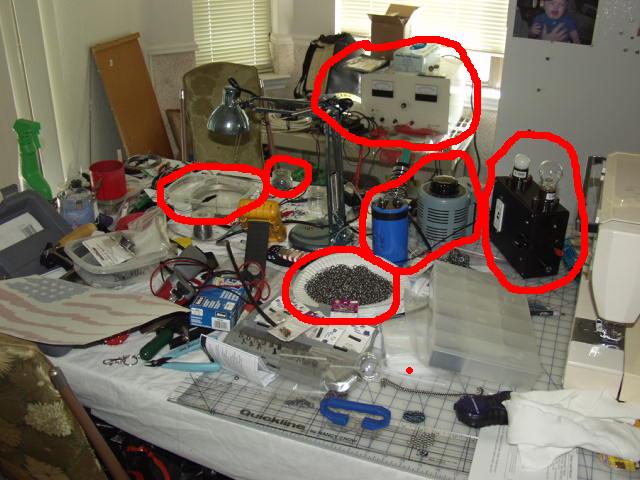 the big box in the background is my first power supply i used as an anodizer. it is huge, heavy and limited to 36 volts DC.

the "thing" on the right with the 2 light bulbs is my second anodizer. it was finished last because i had to wait on parts. i got the plans from MrTitanium.com.

the grey and blue thing circled is my 3rd anodizer. the part you cant see is the box holding the rectifier, the fuse, and the power resistor. what you can see is the capacitor and variable transformer.

the paper plate is my supply of CP titanium rings used to test. the supply of 6al-4v rings are in the tumbler getting all cleaned.

the babyfood jar is my "fruit loops". that is what i call my rings after testing because it looks like a jar of the cereal.

next to the jar is my electrolyte. i use a 1 foot long coil of spring stainless steel i got from Jon as the anode.

everything else is "just in the way".

Jai wanted me to also note the item to the far right is her sewing machine. i have taken over where she does her sewing and it is still growing.

Details:
| | |
| --- | --- |
| Box | $7.00 radio shack |
| Light switch | $1.50 Lowe's |
| GFCI | $7.00 Lowe's |
| Rectifier 8amp 250v | $2.00 Radio Shack |
| Capacitor 1500mF 250V | $7.00 eBay |
| Fuse holder | $2.00 Radio Shack |
| Dimmer | $4.00 Lowe's |
| Light bulb & socket x2 | $5.00 Lowe's |
| Heat sink | $1.00 Radio Shack |
| Better looking knob for the dimmer | $2.50 |
It works great, but by the time I got the capacitors I had found a deal for a variable transformer on eBay and have built one based on that.
Here are some shots of the light-bulb anodizer and its interior: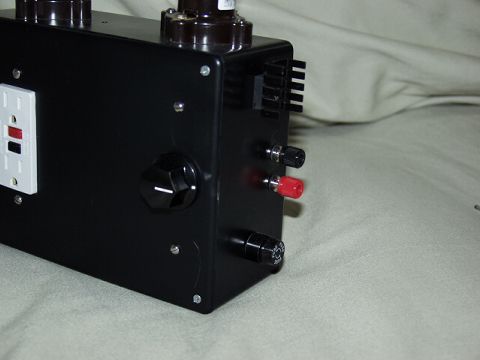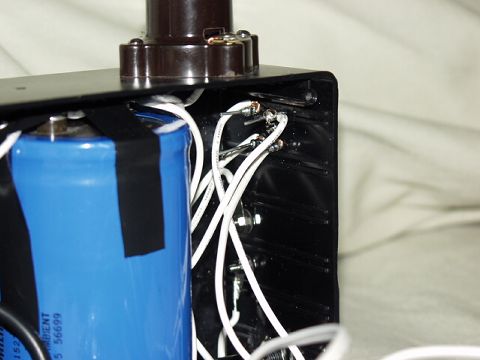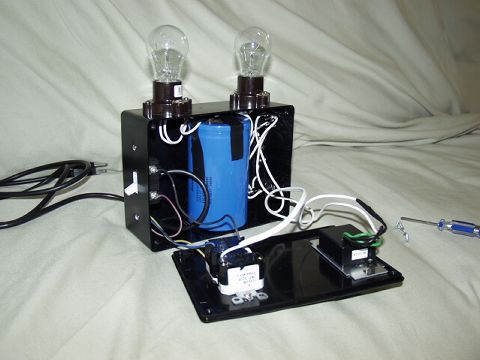 ---
Please, visit MrTitanium's pages for Unique titanium jewelry (samples of to do with an anodizer), or read About MrTitanium, Artist