Shows How He Does
That Thing He Do
This page began as a detailed, pictorial "how I made them" description for a customer who ordered a set of titanium mathematical symbol earrings.
Later, I edited this a bit to show to the general public. Please forgive the cluttered studio, and the snapshot quality of some of these pictures.

The project specification was to create 4 earrings comprised of the binary digits (0 and 1), and the mathematical symbols for the most used transcendental and irrational numbers: The base of natural logarithms (e=2.718....) and pi (about 3.1415...)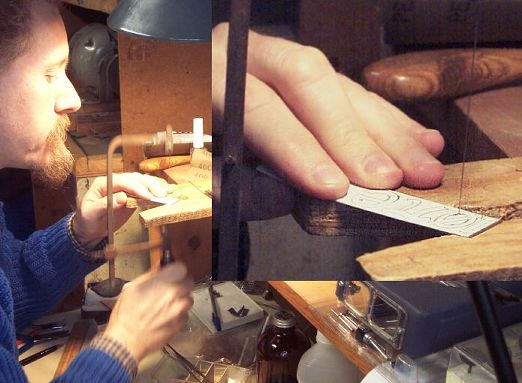 I start the old fashioned way: Draw patterns on paper with a graphite polymer stylus (mechanical pencil) and then glue it to a sheet of Commercially Pure, A35, Grade #1 titanium sheet (Click for a list of common titanium grades). Then I center-punch and drill tiny holes (#60 bit) to fit the 2/0 jeweler's saw blade in order to cut out the interior shapes.
I broke 4 blades doing these earrings. This is normal attrition for titanium.
| | |
| --- | --- |
| After cutting out the interior spaces, I used 2/0 and 3/0 needle files to smooth out the lines cut by the nearly hair-fine blade. | So, you see the holes. Yee. Hah. |
Then, I cut out the outsides using mainly the same manual technology.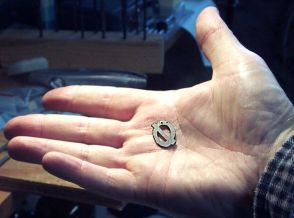 Smoothing involves fine grinding wheels and tiny files. (Note the occupational hazard on my left index finger; those files are sharp.)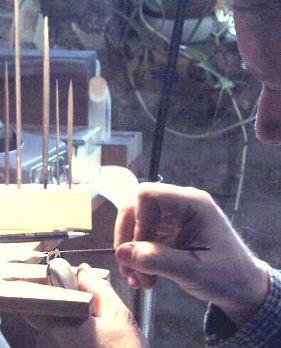 "Wear your goggles, Fool!"
And Grinding


And Filing

(Please note the little brooch in the background. I often multi-task when projects get involved)
And finally some sandpaper

And then quite a few more steps, not shown because I got too involved in doing them. A photographer shouldn't be his own subject.
What you've missed is the elaborate polishing & masking & polishing & masking etc. that distinguishes my works from the titanium creations of most other fine-crafts-persons.
We end up with the basic metallic pieces ready to color.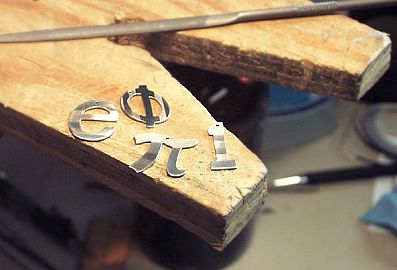 Next comes masking for etching and anodizing the rainbow stripes.
Any solution potent enough to etch titanium will also dissolve glass. (What the EPA or OSHA don't know won't hurt me.)
Actually, for these particular earrings I used a rust remover solution that I found in a grocery store laundry aisle. Potent stuff!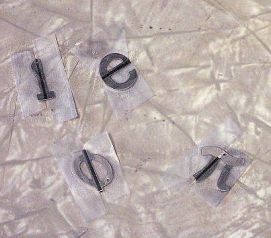 Now anodizing the rainbow stripes. I'm holding an electrode in each hand -- one wet, one dry -- and there is about 95 volts between them.
Don't do as Dan done did; always wear rubber gloves! (PSA)
I have a degree in electrical engineering, which means that I should know better.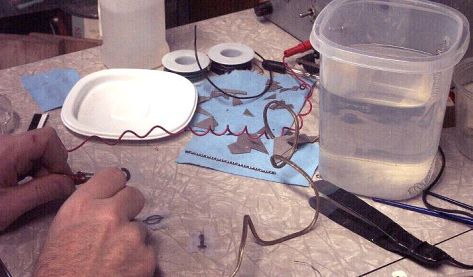 Then I apply the dark-to-light blue gradient on each side of the rainbow for each piece.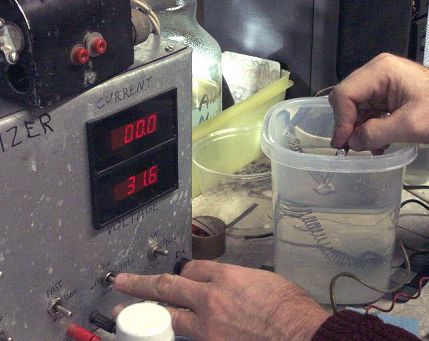 And I color the jump rings and do 2 full color processes on the ear-hooks (the yellow is being applied in this shot)

Finally, a dozen pieces just waiting to be assembled.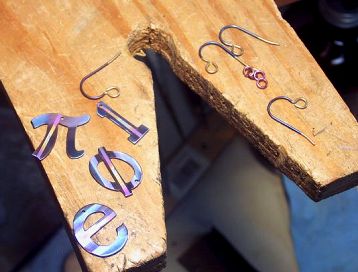 | | |
| --- | --- |
| Together they go. I'm putting the pi together. | To the right is an apple pi that I baked in October 2002 to prove that pi are (in fact) round. |
And they come out here. Zero, One, and a couple of approximate three's.


I received payment via PayPal and shipped these in mid-December, 2002.
Go to theHomepage
for much more information, links, and other cool stuff
Please use this forum post to ask me any questions.