I'm always looking for venues to distribute, sell, or consign my jewelry, sculpture, clocks, etc.
I will promote any venue at which I sell on this page.
I'm open to suggestions for Fairs and other venues
Visit my Art for Sale page to view or buy selected hand-made titanium items directly from the artist.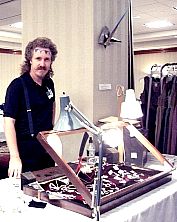 Selling clock and jewelry at the
2001 Gateway Science Fiction Convention (StL)